Canadian Rail
Equipment Works
& Services
CREWS is a growing freight rail service company located in Ontario, Canada.
CREWS offers an array of services to industrial customers that rely on the railway to transport and receive their raw goods and/or finished products. We work persistently to ensure the safe and effective transportation, or storage, of your goods.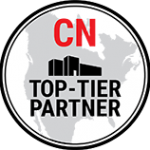 We are a CN Top Tier Partner and Avetta approved contractor. 
Our inspectors and maintainers are certified. We provide safe and reliable services to our customers, while doing our best to keep industry on track.
Canadian Rail Equipment Works and Services Inc. railyard is open for business.
Acres Site in Johnstown Ontario
Million Consumers Within One Day's Trucking Time
Railyard
Click the image to learn more.
CREWS offices and mechanical shop
Phases 5 & 6 of rail construction will add 450 rail car accommodation in 2022
Industrial rail spur between CN main line and Port of Johnstown
CREWS inbound and outbound for CN service
Phase 4 of expansion will add a new dry goods transloading area
Offices of Jones Rail Industries Ltd.